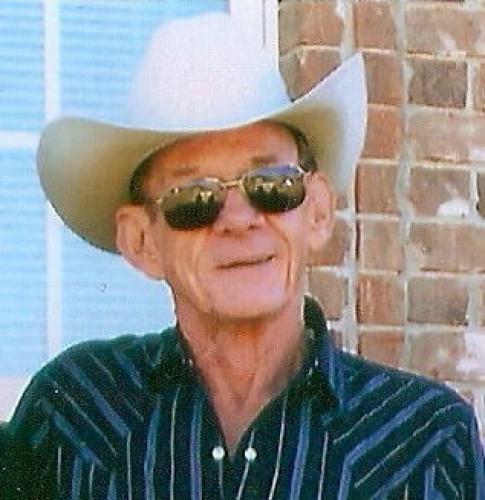 In Loving Memory of
Allen Craig
April 7, 1944 - February 17, 2008
Forever loved
Forever missed
Forever in our hearts

Allen was born in Springfield, MO. on April 7, 1944 and passed away on February 17, 2008 in Jay, OK. at the age of 63.
His body was recovered February 20, 2008 at around 8:00 am.
He is survived by his mother Roxanna;
wife: Marian;
son and daughter-in-law: Mark & Amy;
daughter-in-law: Linda (Terry's wife);
grandson: Cody and fiancée Jessicah;
granddaughters: Ashley and Jessica;
great-granddaughter: Kynzee;
uncle and aunt: Harvey & Goldie
Other survivors include:
Marians children:
step-daughters: Tina and husband Dewane;
Teresa and husband Kevin;
and Brenda;
step-son: Bobby and wife Lynle
Naydens children:
step-daughters: Cindy and husband Gordon
Sandy and fiancé Alan
step-son: Chuck

and numerous step-grandchildren, nephews, nieces and
friends
He is preceeded in death by a wife: Naydean;
son: Terry
great-grandson: Noah
step-son: Clint

Memorial services were Friday, February 22, 2008 at 10:00am at the Butler Baptist Church. The Grove Veteran's Ritual Team performed military rites.

I created this site as a place where family and friends can come visit, write tributes, light candles, view memories, and to just remember Allen.

Everyone who knew him is well aware of what a special and loving man he was. Love for his family was his main purpose in life. He was...and still is...an angel to all whose lives he touched.

His memory will live in our hearts forever.

*** I would like to mention that Allen had so many grandchildren, nephews, neices, and friends between Naydean and Marian he loved and cherished, that it is impossible to mention everyone by name. Please know it was not my intention to purposely leave anyone out.

In Loving Memory

Chance Colby Craig (grandson born sleeping)
~Angel Date: July 1, 1984~
Clint Storey (step-son)
~Angel Date: ~
Terry Craig (son)
~Angel Date: October 22, 2000~
Terry's Memorial Page

Noah Will Craig (great-grandson born sleeping)
~Angel Date: April 8, 2005~
Kenneth Clevinger (Amys father)
~Angel Date: July, 17, 2006~
http://kenneth-clevinger.memory-of.com

Staff Sgt. Clint Storey (step-grandson)
~Angel Date: August 4, 2006~
in Iraq
http://ssg-clint-storey-1976-2006.memory-of.com
http://clint-storey.memory-of.com

Naydean Craig (wife)
~Angel Date: August 19, 2006~
Naydeans Memorial Page

Harvey Burch (uncle)
~Angel Date: December 14, 2008~

Goldie Burch (aunt)
~Angel Date: November 20, 2012~

Roxanna Underwood (mother)
~Angel Date: August 4, 2014~



We would like to thank the following agencies,
organizations, and businesses for their dedication and patience
in helping to locate Allen:
*Oklahoma Highway Patrol: Trooper Eric Gibe, Lts. John Starling, Lake Patrol Officer Ben Chapman
*Delaware County Sheriff's Department: Jay Blackfox
*Butler Fire Department
*Cherokee Nation Marshals
*Eucha Fire Department
*GRDA Lake Patrol
*Deerlick Wrecker
*Jay & Grove Emergency Managements
*Newton County Emergency Management's Wilderness Search & Rescue Team Divers and Human Remains Detection dogs
*The Jay McDonalds, Sonic, Pizza Hut, Spudnuts, and Okie Mart,
as well as the Grove Wal-mart, Rib Crib, and Charlies Chicken for
providing food and drinks for the rescuers during their search.
This also goes for anyone else that helped in the search that I have not listed.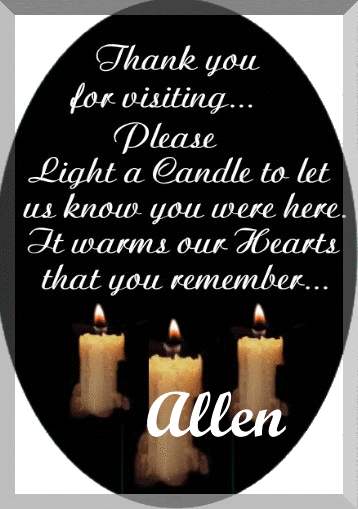 Thank you for allowing me to share Allen and his family with you.
Whether you are passing through or you are a loved one, we would love for you to light a candle (light and write however often you would like). If Allen has touched your life in any way, write a tribute and share that memory. If you have any photos of that you would like to share, please contact me and I will see about getting them added. Visit his "Life Story" page to read more about him.
I will continue to add to Allen's site, so visit again and as often as you please.
UPDATE:

8-6-14: I have now added a page for Roxanna

I have added a page for Naydean and Terry. Click on "Allen's Custom Pages" at the top and you will be directed to a link to their page. If you have any photos of Naydean or Terry, please contact me and I will see about getting them added. There is also an area where you can leave a tribute for them.

*** Please do not copy the graphics with Allens, Naydeans, or Terry's picture or name in them. These graphics were made especially for them and are very special to their family. If you see one you like, please email me and I'll give you the name of who made it.

This also goes for any poems that were written especially for them and any other poems that I have asked for permission to use.


These are some songs that I thought you, Allen's visitors, would enjoy listening to.
If you see a song with a broken link, please contact me ASAP so that I can get it corrected.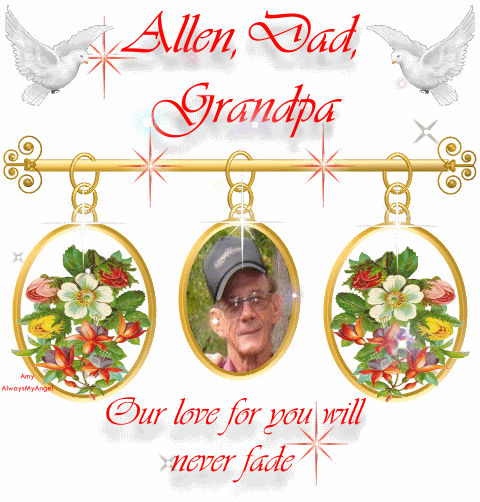 Sadly missed along life's way,
Quietly remembered every day.
No longer in our life to share,
But in our hearts he's always there.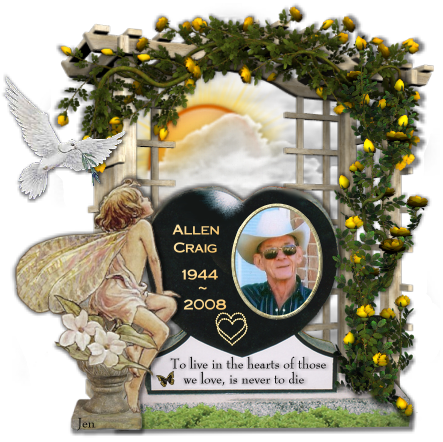 There Is A Special Angel
There is a special Angel in Heaven
that is part of me,
it is not where I wanted him,
but where God wanted him to be.
He was here but just a moment
like a night time shooting star,
and though he is in Heaven
he isn't very far.
He touched the heart of many
like only an Angel can do,
so I send this special message
to the Heaven up above,
Please take care of my Angel
and send him all my love.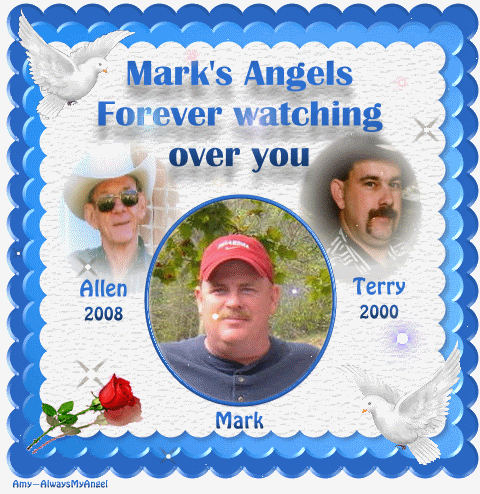 HIS JOURNEY'S JUST BEGUN
Don't think of him as gone away
his journey's just begun,
life holds so many facets
this earth is only one.

Just think of him as resting
from the sorrows and the tears
in a place of warmth and comfort
where there are no days and years.

Think how he must be wishing
that we could know today
how nothing but our sadness
can really pass away.

And think of him as living
In the hearts of those he touched
For nothing loved is ever lost -
And he was loved so much.
~Author Unknown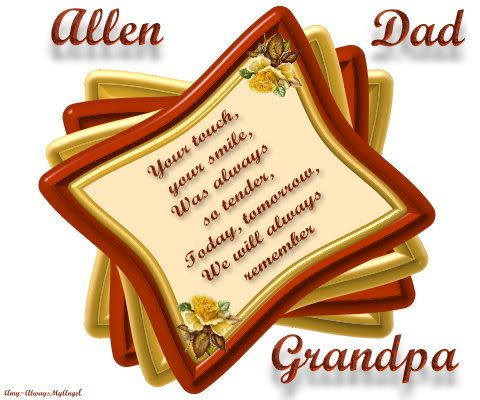 A Fallen Limb
A limb has fallen from the family tree
I hear a voice that whispers "Grieve not for me."

Remember the best times, the laughter, the songs,
The good I lived while I was strong.

Continue my heritage, I am counting on you.
Keep on smiling, the sun will shine through.

My mind is at ease, my soul is at rest
Remembering all...how I was truely blessed.

Continue traditions, no matter how small.
Go on with your life, don't stare at the wall.

I miss you all dearly, so keep up your chin,
Until that fine day, we're together again.
~Author Unknown


A heart of gold stopped beating,
two shining eyes at rest.
God broke our hearts to prove,
he only takes the best.
God knew you had to leave us,
but you did not go alone,
for part of us went with you,
the day he took you home.
To some you are forgotten,
to others just part of the past,
but to us who loved and lost you,
your memory will last
~Author Unknown



The mention of his name
May bring tears to our eyes,
But it never fails to bring
Music to our ears.
If you are really our friend,
Let us hear
the beautiful music of his name.
It soothes our broken hearts
and sings love to our soul.
~Author Unknown~



Father's Are Wonderful People
Fathers are wonderful people
too little understood,
and we do not sing their praises
as often as we should...

For, somehow, father seems to be
the man who pays the bills,
while mother binds up little hurts
and nurses all our ills...

And father struggles daily
to live up to "his image"
as protector and provider
and "hero of the scrimmage"...

And perhaps that is the reason
we sometimes get the notion,
that Fathers are not subject
to the thing we call emotion.

But if you look inside dad's heart,
where no one else can see
you'll find he's sentimental
and as "soft" as he can be...

But he's so busy every day
in the gruelling race of life,
he leaves the sentimental stuff
to his partner and his wife...

But fathers are just wonderful
in a million different ways,
and they merit loving compliments
and accolades of praise.

For the only reason dad aspires
to fortune and success
is to make the family proud of him
and to bring them happiness...

And like Our Heavenly Father,
he's a guardian and a guide,
someone that we can count on
to be always on our side.
~Helen Steiner Rice~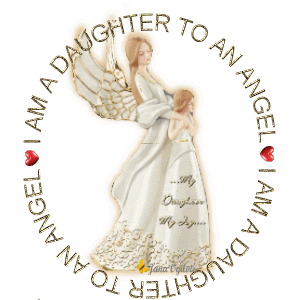 When Tomorrow Starts Without Me
When tomorrow starts without me,
and I'm not there to see,
If the sun should rise and find your eyes
all filled with tears for me.

I wish so much you wouldn't cry,
the way you did today,
While thinking of the many things
we didn't get to say.

I know how much you love me,
as much as I love you,
And each time that you think of me,
I know you'll miss me too.

But when tomorrow starts without me,
please try to understand,
That an angel came and called my name
and took me by the hand,
And said my place was ready, in heaven far above,
And that I'd have to leave behind
all those I dearly love.

But as I turned to walk away
a tear fell from my eye,
For all my life, I'd always thought
I didn't want to die.

I had so much to live for,
So much left yet to do,
It seemed almost impossible
that I was leaving you.

I thought of all the yesterdays,
the good ones and the bad,
I thought of all the love we shared
and all the fun we had.

If I could relive yesterday,
just even for a while,
I'd say good-bye and kiss you,
and maybe see you smile.

But then I fully realized,
that this could never be,
For emptiness and memories
would take the place of me.

And when I thought of worldly things,
I might miss come tomorrow,
I thought of you, and when I did,
my heart was filled with sorrow.

But when I walked through heaven's gates
I felt so much at home,
When God looked down and smiled at me,
from his great golden throne
He said,
"This is eternity, and all I've promised you.
Today your life on earth is past
but here life starts anew,
I promise no tomorrow
but today will always last,
And since each day's the same way
there's no longing for the past,
You have been so faithful, so trusting,
and so true
Though there were times you did
some things you knew you shouldn't do,
But you have been forgiven
and now at last you're free,
So won't you come and take my hand,
and share my life with me?"

So when tomorrow starts without me,
don't think we're far apart,
For every time you think of me,
I'm right here in your heart.




How Long Will The Pain Last
How long will the pain last?"
a broken hearted mourner asked me.
"All the rest of your Life."
I have to answer truthfully.

We never quite forget. No matter how many years pass, we remember. The loss of a loved one is like a major operation. Part of us is removed, and we have a scar for the rest of our lives.

As years go by, we manage.
There are things to do, people to care for, tasks that
call for full attention.

But the pain is still there, not far below the surface. We see a face that looks familiar, hear a voice that echoes, see a photograph in someone's album, see a landscape that once we saw together, and it
seems as though a knife were in the wound again. But not
so painfully. And mixed with joy, too. Because remembering
a happy time is not all sorrow, it brings back happiness with it.

How long will the pain last?
All the rest of your life. But the thing to remember is that not only the pain will last, but the blessed memories as well.

Tears are proof of life. The more love, the more tears. If this be true, then how could we ever ask that the pain cease altogether. For then
the memory of love would go with it.

The pain of grief is the price we pay for love.
~Author Unknown~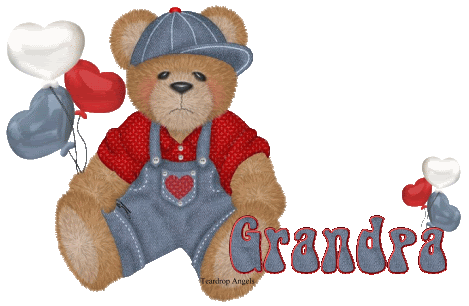 To My Beloved
You had a talent for bringing special meaning to life,
It was such a pleasure to be your wife.
You helped me to grow and to realize
The fullness and the beauty in our lives.

Every day I counted my blessings
Then God called, and you went away
Out of this world to a brighter day.
Suddenly my life of gladness
Turned to utter sadness.

My grief wears me down, I shed so many tears,
As I recall your love and devotion through the years.
For your sake and in memory of your name,
I pray for strength to do things the same.

To reach out, to fill the hours with useful ways
To comfort, to cheer and have no more empty days.
I try to console myself-it was God's greater plan,
So I must accept it, if I can.

You moved away to His splendid home above,
If there is life after death,
I know you will be waiting there for me,
With love.

Through Heaven and Earth divide us, and the distance is so great, I count my blessings for the years you were my mate.
I will live my life remembering, while you wait slumbering,
My beloved, may you rest in peace.



I Thought Of You
I thought of you with love today, but that is nothing new.
I thought about you yesterday, and the day befor that too.
I think of you in silence, I often say your name,
But all I have is memories and your picture in a frame.

Your memory is my keepsake, with which I'll never part.
God has you in his keeping, I have you in my heart.
I shed tears for what might have been, a million times I've cried.
If love alone could have saved you, you never would have died.

In life I loved you dearly, in death I love you still,
In my heart you hold a place no one could ever fill.
It broke my heart to lose you, but you didn't go alone
For part of me went with you, the day God took you home.
~Arthur unknown~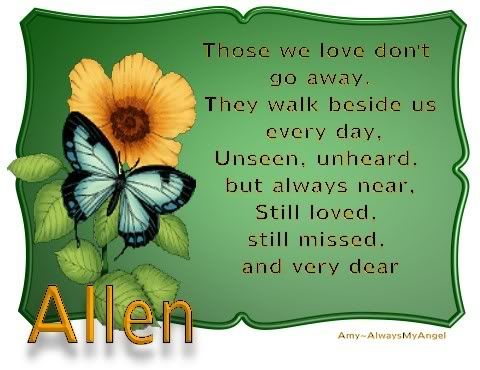 Letter From Heaven
To my dearest family,
Some things I'd like to say, but first of all, I'd like to let you know that I arrived oaky. I'm writing this from heaven. Here I dwell with God above. Here there is no more tears of sadness. Here is just eternal love.
Please do not be unhappy just because I'm out of sight. Remember that I am with you every morning, noon, and night. That day I had to leave you when my life on earth was through, God picked me up and hugged me and said, I welcome you. It's good to have you back again, you were missed while you were gone. As for your dear family, they will be here later on. I need you here badly, you're part of my plan. There's so much we have to do, to help our mortal man."
God gave me a list of things, that he wished for me to do. And foremost on the list, was to watch and care for you. And when you lie in bed at night, the day's chores put to flight God and I are closest to you...in the middle of the night.
When you think of my life on earth and all those loving years, because you are only human, they are bound to bring you tears.
Do not be afraid to cry, it does relieve the pain. Remember there would be no flowers, unless there was some rain.
I wish that I could tell you all God has planned. If I were to tell you, you wouldn't understand. But one thing is for certain, though my life on earth is over, I'm closer to you now, than I ever was before.
There are many rocky roads ahead of you, and many hills to climb, but together we can do it by taking it one day at a time.
It was always my philosophy and I'd like it for you too, that as you give unto the world, the world will give to you.
If you can help somebody who's in sorrow and pain, then you can say to God at night..."My day was not in vain."
And now I'm contented that my life was worthwhile, knowing as I passed along the way I made someone smile.
So if you meet somebody who is sad and feeling low; just lend a hand to pick him up as on your way you go.
When you're walking down the street and you've got me on your mind, I'm walking in you footsteps only half a step behind.
And when it's time for you to go...from that body to be free.
Remember you're not going...you're coming here to me.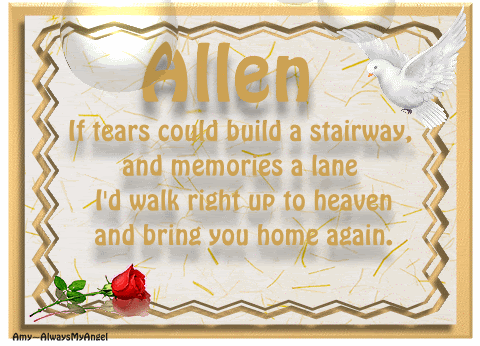 Just a Breath Away
Look for me in springtime
As raindrops fill the air
In the splendor of the rainbow
You'll find my presence there.

You will find me in the fragrance
Of April's sweet perfume
Drifting through the clover
On a sultry day in June.

An August day will find me
Upon the summer breeze
On the distant sound of the thunder
In the gently swaying trees.

In the golden fields of harvest
Is where I can be found.
As autumn time approaches
And leaves comes tumbling down

In the wintertime when days are short
And chill is in the air
Just look into a moonlit night
You'll find me lingering there.

When the setting sun has gone away
And shadows fill the night
When the cloak of darkness lifts its veil
I'll be your morning light.

So when you feel discouraged
Get on your knees and pray
You'll feel me there beside you
I'm just a breath away.



I have an angel on my shoulder
He whispers in my ear.
His voice is soft and gentle
And no one else can hear.

When I'm tired and lonely
It's comfort that he brings.
When I'm filled with happiness
I hear his laughter ring.

My angel's very close to me.
I even know his name.
And though I cannot see him
I love him just the same.

He now has no more suffering
And gone is all the pain.
I believe with all my heart
We will someday meet again.

An angel's job is taxing
It's as hard as it can be.
I hope he doesn't get too tired
Looking after me.

Yes, my angel's with me
from morning til the night.
I know as long as he is here
Everything will be alright.

So when my days are over
I'll not pass in fear.
I know my angel's waiting
To lead me home up there.




A Grandfather Like You
Throughout the years, you've always been
A wonderful man you see
When I was small you took the time
to bounce me on your knee.

As I grew older you were there
I only had to call
I knew that I could count on you
You'd never let me fall.

So many hard times in my life
You've helped to get me through
I'm so glad God gave me
A grandfather as special as you.
~Unknown~
We all love you: Cody, Ashley, Jessica, and Kynzee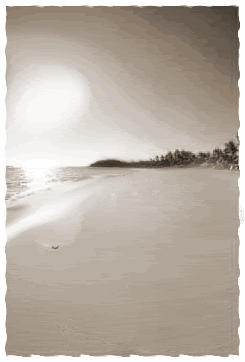 Footprints In The Sand
Author: Mary Stevenson
One night a man had a dream.
He dreamed he was walking along the beach with the Lord.
Across the sky flashed scenes from his life.
For each scene, he noticed two sets of footprints in the sand;
One belonging to him, and the other to the Lord.
When the last scene of his life flashed before him,
He looked back at the footprints in the sand.
He noticed that many times along the path of his life,
there was only one set of footprints.
He also noticed that it happened at the very lowest
And saddest times in his life.
This really bothered him and he questioned the Lord about it.
"Lord, you said that once I decided to follow you,
you'd walk with me all the way.
But I have noticed that during the saddest and most troublesome times
in my life there is only one set of footprints.
I don't understand why, when I needed you most, you would leave me."
The Lord replied, "My precious, precious child,
I love you and I would never leave you.
During your times of trial and suffering, when you see only one
set of footprints in the sand,
it was then that I carried you."





A Grandfather is someone with
silver in his hair
and gold in his
heart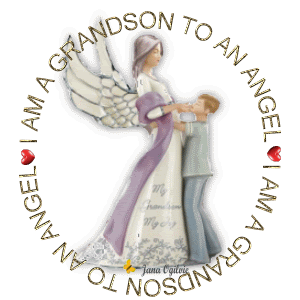 I'm Everywhere
Please don't mourn for me I'm still here,
though you don't see I'm right by your
side each night and day
And within your heart I long to stay
My body is gone but I'm always near
I'm everything you feel, see or hear
My spirit is free, but I'll never depart
As long as you keep me alive in your heart
I'll never wander out of your sight
I'm the brightest star on a summer night
I'll never be beyond your reach
I'm the warm moist sand when you're at the beach
I'm the colorful leaves when fall comes around
And the pure white snow that blankets the ground
I'm the beautiful flowers of which you're so fond
The clear cool water in a quiet pond
I'm the first bright blossom you'll see in spring
The first warm raindrop that April will bring
I'm the first ray of light when the sun starts to shine
And you'll see that the face in the moon is mine
When you start thinking there's no one to love you
You can talk to me through the Lord above you
I'll whisper my answer through the leaves on the trees
And you'll feel my presence in the soft summer breeze
I'm the hot salty tears that flow when you weep
And the beautiful dreams that come while you sleep
I'm the smile you see on a baby's face
Just look for me, I'm everyplace...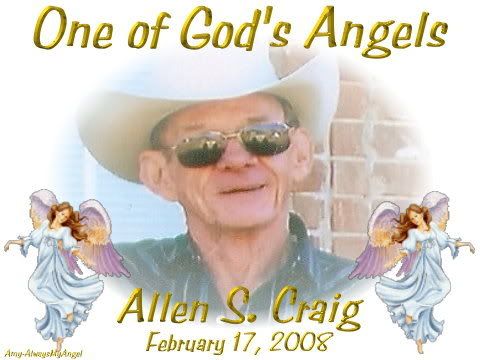 Truly An Angel
An Angel is what he is to me
That's what he was truly meant to be.
As his time on earth has past
His memory will always last.

He was put to the ultimate test
Now it's time for him to rest.
So as he goes
Heaven only knows.

That he was more
Than you or me.
Because an Angel is what
He was truly meant to be.
~Unknown~



Angels Among Us
I was walking home from school on a cold winter's day
Took a shortcut through the woods and I lost my way
It was getting late and I was scared and alone
Then a kind old man took my hand and led me home
Mama couldn't see him, but he was standing there
But I knew in my heart, he was the answer to my prayers

Oh I believe there are angels among us
Sent down to us from somewhere up above
They come to you and me in our darkest hours
To show us how to live
To teach us how to give
To guide us with a light of love

When life dealt troubled times and had me down on my knees
There's always been someone there to come along and comfort me A kind word from a stranger to lend a helping hand
A phone call from a friend just to say I understand
Ain't it kind of funny at the dark end of the road
Someone lights the way with just a single ray of hope

Oh I believe there are angels among us
Sent down to us from somewhere up above
They come to you and me in our darkest hours
To show us how to live
To teach us how to give
To guide us with a light of love

They wear so many faces
Show up in the strangest places
Grace us with thier mercy
In our time of need

Oh I believe there are angels among us
Sent down to us from somewhere up above
They come to you and me in our darkest hours
To show us how to live
To teach us how to give
To guide us with a light of love
~Song lyrics by Alabama~




If I could have a lifetime wish
A dream that would come true.
I'd pray to God with all my heart for yesterday and you.
A thousand words can't bring you back,
I know because I have tried.
And neither will a million tears
I know because I have cried.
You left behind my broken heart
and happy memories too.
I never wanted memories,
I only wanted you.
~ Author Unknown~



From the 1st time I met Allen, I loved him. Him and I always had a special bond. His nickname for me was "Blamy Amy"...I don't know why, but it always stuck. I have so many memories of him from my almost 20 years as his DIL that I can't list them all. Every memory I have is special and I will always hold Allen close to my heart.
| | | |
| --- | --- | --- |
| Benny Deal | Just found out about Allen | December 23, 2015 |
I am Allens 1st. cousin, The last time I saw him was at his Aunt Hallie's funeral,(my mother). I talked a short while after that and then lost contact with him.

Amy Craig: contact me for some more family info please!
benmar@windstream.net
| | | |
| --- | --- | --- |
| Kelli George's mom Lorraine | Remembrance Feb 2013 | February 3, 2013 |
| | | |
| --- | --- | --- |
| Tammy K. | An Autumn graphic for Allen and family with love | August 23, 2009 |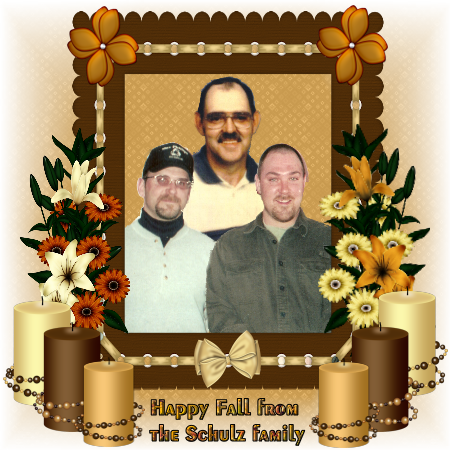 | | | |
| --- | --- | --- |
| Mom to Angel Melissa Platt | Thinking of You | July 15, 2009 |
| | | |
| --- | --- | --- |
| CATHY~MOM OF DAVID GIRAUD | THINKING OF YOU ALWAYS~ | June 16, 2009 |
~BLESSINGS~
"BLESSINGS CAN BE A LOVING SMILE,
OR EVEN A SOFT TENDER TOUCH,
A KIND WORD SOFTLY SPOKEN.
THESE BLESSINGS MEAN SO MUCH!
BLESSINGS ARE A SPECIAL FRIEND,
BEING THERE IN TIME OF NEED,
LENDING A HAND AND ENCOURAGEMENT,
BY DOING A LOVING DEED!
BLESSINGS ARE WHEN SOMONE CARES,
WHEN OUR LIVES SEEM TO BE ADRIFT.
BLESSINGS ARE HEARING A PRAYER,
THAT GIVES OUR LIVES A LIFT.
BLESSINGS ARE KNOWING OUR GOD IS NEAR,
OUR EVERY PRAYER HE WILL HEAR!
GIVING US COMFORT, INSTEAD OF FEAR,
TRUSTING HIM WITH ALL WE HOLD DEAR"